Pediophobia... no, it's not a film about 1960s 'mods', it is the proper term to describe a fear of dolls.
Although it may seem very strange to some of us, it seems that lots of people suffer from this affliction.  While some sufferers are afraid of dolls, and artificial human forms in general, others only fear particular types of dolls, with talking, moving and ols fashioned porcelain dolls being particular culprits for striking fear into the hearts of others.
In my personal ...
Read Full Post »
Recently I was lucky enough to get to interview super-talented doll customizer 'Moofala1' otherwise known as Kate.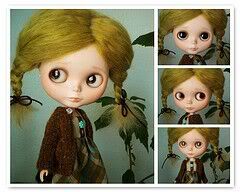 Read Full Post »