This is the first illustration that I've done for a while, I got kind of burned out!  This is something of a departure from my usual style and process.
It uses mainly modified photos (of my own).  It was semi inspired by disturbing film 'YellowBrickRoad'.  For me, the sign of a really good horror film is that it makes me really, really scared of the concept of hell... YellowBrickRoad does.
I think it's also influenced by the conscious and subconscious guilt I often ...
Read Full Post »
It's been drawn to my attention that there are plans in motion for a Littlest Petshop Blythe TV show on the horizon:
http://www.nickandmore.com/2011/03/24/the-hub-upfront-2011/
I really hope that they do our girl justice, but I do have my doubts considering the quality of some of the other toy/animation tie ins of the past.  I'm also not convinced of the ethical merits of this sort of di...
Read Full Post »
You must have gathered by now that I have a rather creative and mult-talented brother, and he excelled himself once again by making me the best birthday card ever!
Awesome sauce!
Holly xoxo
Pediophobia... no, it's not a film about 1960s 'mods', it is the proper term to describe a fear of dolls.
Although it may seem very strange to some of us, it seems that lots of people suffer from this affliction.  While some sufferers are afraid of dolls, and artificial human forms in general, others only fear particular types of dolls, with talking, moving and ols fashioned porcelain dolls being particular culprits for striking fear into the hearts of others.
In my personal ...
Read Full Post »
The current brouhaha over the possible sale of the iconic BBC Television Centre building got me feeling nostalgic (thanks Charlie Brooker!).
To me, and to many, that building is inextricably linked to my childhood and to memories of the single, scant hour of childrens' television scheduling which we were allowed back in the 70s and 80s.
This golden after-school highlight of the afternoon always began with the much anticipated words 'Now, it's five to four and time for 'Playschool'...
Read Full Post »
Hot on the heels of our custom 'Belle Doll' comes The Thinking Doll OOAK Custom Doll number 2 - 'Glinda the Good Witch' from the Wizard of Oz.
Obviously she isn't an exact replica of the character in the movie but simply inspired by her (I guess even Glinda likes to mix up her wardrobe now and again ;D)
This doll began life as a normal vintage Ro...
Read Full Post »
I have finally completed my very first custom OOAK doll.  She began life as a Disney 'Belle' doll from 'Beauty and the Beast.  She was in very poor condition when I rescued her from a mixed lot of very battered dolls on Ebay.
Here's her 'before' shot (she also came to me nude).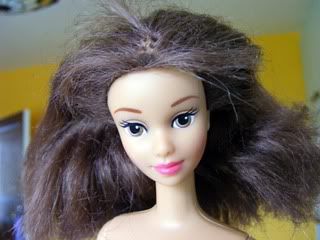 I completely rerooted her using alternating plugs of 'Proper Copper' and 'Chocolate Drop' ...
Read Full Post »
I have to admit it - I LOVE the Eurovision Song Contest (and I'm sure part of it has to do with the fact that a good proportion of the styling appears to be based on some of Barbie's more outlandish attire!)
Watching the semi finals reminded me of the Abba dolls I remember admiring in the shops in the early 80's (Yes, I am a little old to be playing with dolls :P)
Read Full Post »
I played this game recently.  A rather spooky hidden object game / point and click adventure.  
When your husband mysteriously disappears, one stormy night, a strange package arrives containing an odd little raggy doll that springs to life.  
With the doll's aid you must uncover the clues to your husband's dark past and retrieve the missing dolls to place in a strange dollshouse to rescue your true love before it's too late.
The game is quite spooky with an in...
Read Full Post »