Rescued girl of the day found tucked away behind boxes in a local charity shop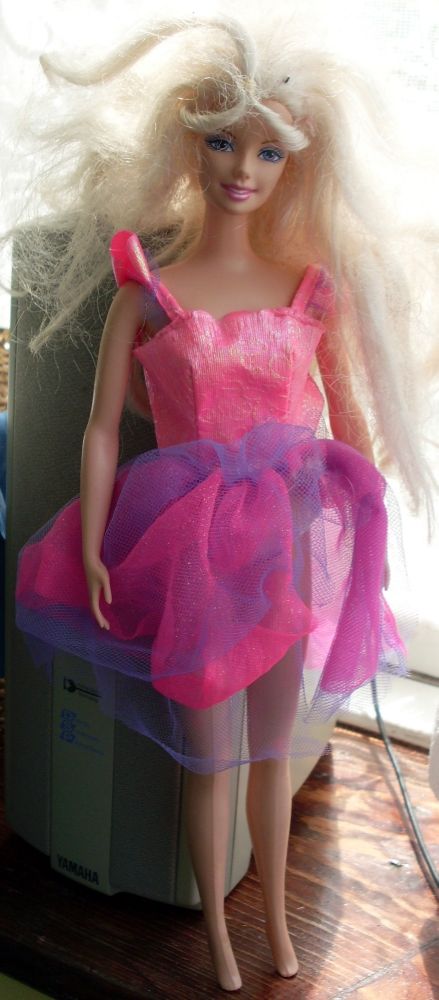 I think she'll be much happier after a bath
Actually judging by the weather we've been having it's possibly closer to Christmas than spring!
I have a bit of a thing for Christmas themed Barbies so was thrilled when these two arrived in the post this morning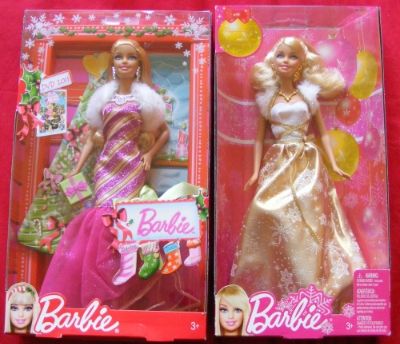 On the left is "A Perfect Christmas" Barbie, and on the right is "Holiday Wishes" Barbie...
I love the pink and green candycane gown and waist length hair of ...
Read Full Post »
The problem with schlepping your dolls around the place in search of photo oppurtunities is that all too often they can get quite badly battered in the bottom of your handbag.  This problem had me keeping an eye out for a suitable case to fit my Barbies.
I had had my eye on the Zipbin Barbie clutch for a while and a reduction in price to less than a fiver plucked me from my procrastination and moved me to action via the Buy It Now button.
Well it arrived today as you can see....
Read Full Post »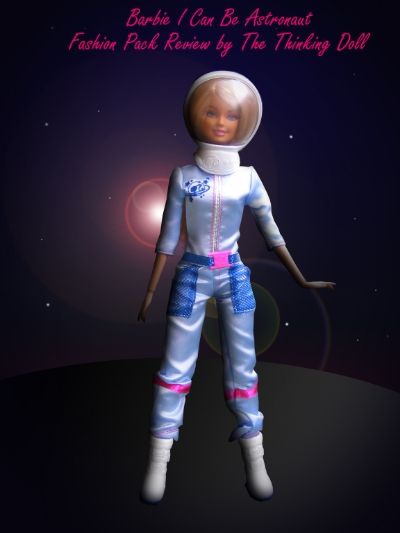 Adventure
I don't know about you but, even as a kid, my Barbies had their sights set on far greater adventure than could be contained in the nearest beach or shopping mall.  With this in mind I was pleased to discover that amongst the other 'I Can Be' career-based Barbie fashions, an Astronaut set has been included.
First impres...
Read Full Post »
So my new Barbie Charm School Blair doll arrived.  I was desperate for her to get here!  I'm afraid I was a little disappointed though.
Her outfit and accessories are great, her hair is lovely and her lip colour gorgeous... but her eyes are rather lacking in presence
 .  She is quite photogenic though, maybe we will bond more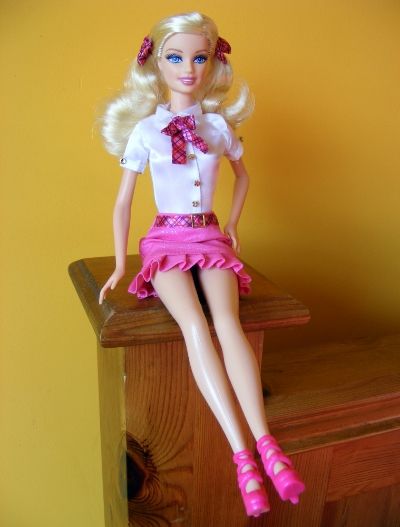 Read Full Post »
I bought a job lot of dolls on the 'Bay a few days ago, not sure exactly what was among them but on unwrapping them I found it contained identical dolls to the first, and only, two Barbie dolls that I owned as a child!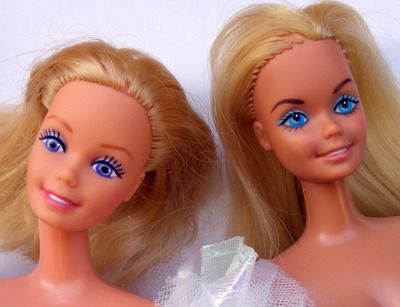 The one on the right, with the blue eye shadow is identical to my first Barbie (whom I imaginatively named 'Barbie').  She originally wore a vest and shorts for joggin...
Read Full Post »
Something monumentally exciting happened today, I discovered a new charity shop, and it's within walking distance!
Okay, so perhaps I don't have much of a life but that is exciting news for me
There wasn't much dolly action going on in there today, but it's a large shop and I'm sure it'll be worth a regular visit.
I did manage to liberate this rather battered Barbie doll though.  
Read Full Post »
We've all heard the phrase 'life imitating art' but it seems that simulated life is also just as likely to imitate art... here are some of the best examples
Recently Mattel released the 'Museum Collection' set of Barbies based on the works of the great masters Leonardo Davinci, Gustav Klimt and Vincent Van Gogh...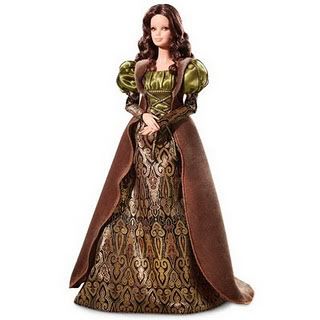 Read Full Post »
Many aeons ago Barbie was pretty much the only doll that I collected, but I haven't bought any new Barbie stuff for ages!  Today, though I splurged in an uncharacteristically self-indlulgent fashion and bought all these!
Although I do like the Fashionista Cutie's face up I lurve the pink hairedness of the Hollywood Diva, so I decided to do a bit of emergency surgery and swap the heads ('c...
Read Full Post »