| | |
| --- | --- |
| Posted on April 23, 2013 at 11:35 AM | |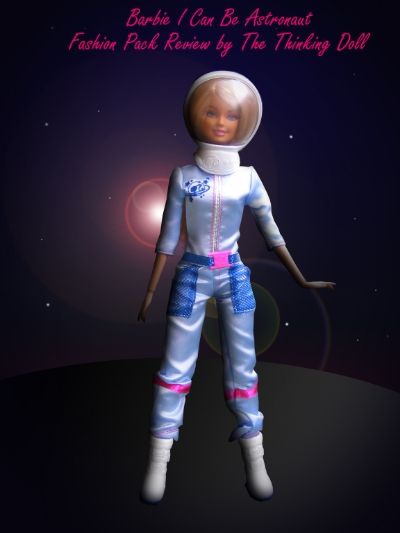 Adventure
I don't know about you but, even as a kid, my Barbies had their sights set on far greater adventure than could be contained in the nearest beach or shopping mall.  With this in mind I was pleased to discover that amongst the other 'I Can Be' career-based Barbie fashions, an Astronaut set has been included.
First impressions/suit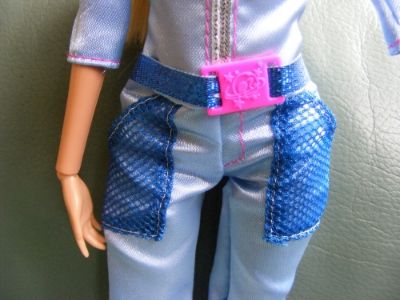 First impressions were that the outfit was easy to get out of the packaging, which is always a bonus
  Once the items were removed I was struck by a glaring omission.  There were Barbie's suit, boots and helmet, but where in heck are her gloves!?
Overlooking the small point that Barbie couldn't actually survive in space without gloves (apart from anything moon rocks play havoc with your nails!) the outfit is really rather nice.  The pale blue satiny jumpsuit fits nicely and goes on easily fastening at the back with velcro (which incidentally genuinely was invented for the space programme).  The ease of dressing might seem an obvious one, but in that case you probably didn't spend hours of your childhood trying to squeeze a 1980s Action Man into his one-piece rubber space suit through the tiny neck hole
Boots
The next logical set seemed to put on Barbie's boots so she could take that one small step/giant leap.  The detailing on the boots is pretty cool, however it occurred to me as I progressed that it might have been a better design if the bottoms of the leg openings of the suit were elasticated.  As it is, the trouser bottoms neither want to sit inside or outside of the chunky boots which makes for an untidy and unrealistic appearance.
Helmet
The helmet is quite nicely styled.  It comes in two halves and is easy to fit together over Barbie's head while still remaining secure.  You do have to be careful with any long hair getting trapped in the side seam when you close it though.
In conclusion
Overall a nicely designed set, I liked the little logos, detailing and colours used.  The elasticated leg openings and gloves would have improved the set, as would the inclusion of a little flag that Barbie could plant, but these are relatively minor issues that certainly haven't detracted too much from my enjoyment of the set.  Now to send Barbie to LV426 for some Alien butt kicking
Categories: Barbie, Photos, Reviews